Patrick Wilde has written extensively for stage, film and television. Whether you are looking for one-to-one advice sessions or more extensive workshops with actors, he is in a unique position to help.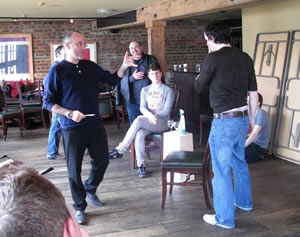 Have you written a script but are not sure how to take it to the next level? Have you written several drafts but you're still not happy? Do you feel alone in your quest to make your story or characters work? Why not talk to Patrick about the problems. He can come to your home or meet you in his studio.
Owing to his position in the business as both writer and director Patrick also has access to many talented actors who will read the script live for you. He is able to provide:
A reading of your script by professional actors.
Working and directing of scenes with actors.
Experimental work on character using newly developed techniques.
Feedback sessions with the actors.
A follow up session with Patrick with direct suggestions for re-structuring and editing based on the workshop process.
A rehearsed reading in a brand new state of the art theatre. Should you choose, you can make this a public reading for an invited audience.
All of the above apply not only to stage plays, but also to TV and Film scripts. Patrick has vast experience of TV, writing for shows as diverse as Casualty, As If, City Central, Family Affairs, Holby City, EastEnders, The Bill and Peak Practice. He had had two film scripts successfully produced, and one of them Get Real, won awards around the globe. He can offer a similar workshop to that described above for stageplays but tailor made for the different demands of film and TV.
He also offers one on one consultation on stage, TV and film scripts.
Email him now and see if he can help you - This email address is being protected from spambots. You need JavaScript enabled to view it..