RECENTLY INCLUDED IN A LIST OF THE TOP TEN DRAMA COACHES IN LONDON, PATRICK  IS A TV, FILM AND THEATRE WRITER AND THEATRE DIRECTOR. HE HAS ALSO WORKED AS AN ACTOR, A DRAMATURG AND DRAMA TEACHER.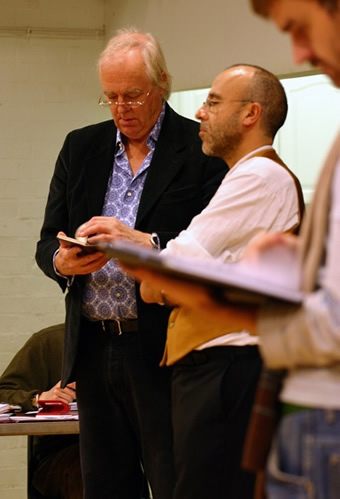 Patrick's has produced work for the theatre, film and television, including  EastEnders, This Life, As If, Casualty, Peak Practice, Family Affairs, Holby City, Monarch Of The Glen, City Central, Sunburn and the feature films Get Real and Things To Do Before You're 30.  He is currently developing Stephen Fry's novel Making History for TV and an new three part drama for ITV.
He directed his first plays at the age of 19 - Shakespeare's Hamlet. Whilst at the University of London he directed several more classics then attended the Webber Douglas Academy to train as an actor. He subsequently pursued both acting and directing careers. He was part of the Theatre Manoeuvres Company which brought productions of Schiller to the London stage in the late 80's and early 90's, his production of the Cabal and Lovereceiving excellent notices at the Lyric Hammersmith. He directed Tim Rice's musical Blondel in 1989, and also several productions of Chaucer's Canterbury Tales, in Middle English. The British Council asked him to devise and direct a play about women through the ages entitled All About Eve to tour Pakistan, where it caused a riot in the streets of Lahore (complete with gunfire) because of its controversial attitudes to the rights of women and its depiction of the then new prime minister Benezir Bhutto
Patrick has also worked and directed for several drama schools, including Webber Douglas, Mountview, ALRA, The Academy, The Lee Strasberg Studio, NYU and UCLA and the London Film Academy.
In 1993 Patrick directed his own play, What's Wrong With Angry? which transferred from BAC to the West End and subsequently became the award winning flm Get Real, for which Patrick also wrote the screenplay. The success of these two projects meant Patrick added professional writing to his portfolio, working on such ground breaking TV as This Life and As If, which made him one of them most sought after writers in British television. He wrote a second film, Things To Do Before You're Thirty and the play You Couldn't Make It Up which was successful at the Edinburgh Festival and the New End in London.
In 2006 he and Sir Tim Rice collaborated and revamped Blondel and Patrick directed the first professional production of it for over twenty years at The Pleasance in London. In 2007 there followed the controversial, award winning Failed States at the Edinburgh Festival and the world premiere of Matthew Kelly's Lightning Strikes at The Dublin Festival.
In 2009/10 revived his own play What's Wrong With Angry? in rep with the world premiere of Glenn Chandler's Boys Of The Empire which transferred to London's King's Head where its run was extended by popular demand. What's Wrong With Angry? also subsequently transferred to that theatre. Patrick was asked by the BBC to direct Scott Mills: The Musical which played to sell out crowds at The Pleasance, and he returned the following year with Jump.  His play Exposure debuted in London, and he directed Susan Penhaligon and Katy Manning Keeping up With The Joans for Greenwich Theatre.
Most recently Patrick has written books for two musicals, a manual on acting skills for business people, returned to the stage to play Big Daddy in Cat On A Hot Tin Roof, and is developing Stephen Fry's Making History and James Wharton's Out In The Army for TV.   
Patrick is represented by MBA Literary Agents, 020 7387 2076.