NOW OFFERING SESSIONS VIA SKYPE AS WELL AS IN PURPOSE BUILT LONDON STUDIOS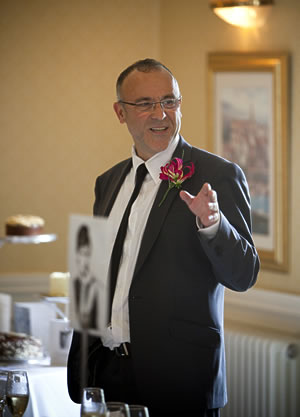 Being a best man, or having to deliver any public speech, is not unlike being writer, director and actor of your own show. If you're not used to public speaking it can be a traumatic affair. Many a wedding reception has been ruined by dull, inappropriate or incoherent speeches.
Relax. Apart from his other credentials Patrick has been a best man himself three times. As with all performing, the secret is simple: Good material plus good preparation and a solid technique makes for a good show.
As part of this service Patrick offers:
Tips on voice projection and general vocal confidence.
How to know your audience. Will there be a lot of children there? Or very elderly people? Gags and anecdotes which may make the groom's rugby pals roar with laughter may offend others. There will be lots of people there who only know one of the married couple - everything you say needs to feel inclusive to all.
Coaching in pitching it right - the right ratio of jokes to more moving and serious sentiments.
A selection of great one-liners for all occasions.
Patrick can actually write the speech for you if you provide anecdotes, background etc.
Direction in the actual performing of the speech.
Needless to say, being a Best Man is not the only form of public speaking. Many of the techniques outlined above apply to all sorts of events, including work presentations, big wedding anniversary parties etc. Perhaps one of the most difficult public addresses of all takes place at funerals, and Patrick can help you prepare and deliver a eulogy for a loved one that will celebrate their life, acknowledge the sadness all will be feeling, but also make people smile at the memories.